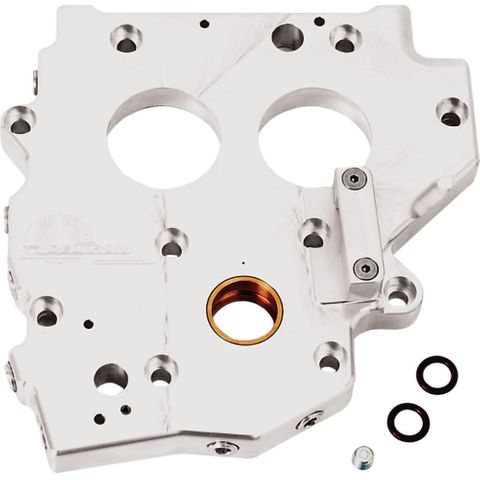 Delkron Cam Support Plate Harley Davidson Twin Cam Softail Touring models
$429.99
Delkron Cam Support PlateTo Suit : Harley Davidson Years 1999 - 2006 Twin Cam Softail and Touring models and 1999- 2005 Twin Cam Dyna models.
The Delkron Billet Cam Support Plate will improve the efficiency and the life of any Harley-Davidson Twin Cam 88 engine valve train, hot or stock.
Our Billet Cam Support Plate eliminates flexing under heavy loads caused by cam and valve springs.
Precise tolerances tighten up the alignment of your cams and pinion bore.

The oil passage has been optimized to improve the efficiency of the Harley-Davidson Twin Cam 88 engine entire oiling system.
Our Billet Cam Support Plate uses NPT pipe plugs to cap off its oil passage instead of the pressed in ball bearing for more positive seal.
Kit includes the 360? Billet Cam Support Plate, Pressure Regulator Valve, Pinion Shaft bushing and Viton O-rings
Machined from 6061-T6 Billet Aluminium
Uses stock mounting hardware.

Made in the USA
Please Note: Images may be for illustration purposes only and reflect the class of product and not the specific model.